Technology is getting advanced day by day. The latest modern consoles are coming with great features and are easy to pair with other devices. That's why these types of devices are well known for their gaming experiences. Now, you might be thinking, like what about PS4? Why bluetooth audio devices are not supported by the ps4? and How to connect Bluetooth Headphones to PS4? If you want an answer, then you need to go through the whole article.
Why Bluetooth Audio Devices Are Not Supported By The PS4?
There are many Bluetooth devices which you can't connect to your PS4  as it doesn't support any audio streaming Bluetooth profile or A2DP (Advance Audio Distribution Profile).
A2DP lags around 100-200ms during gameplay. That's why, Sony just stopped supporting Bluetooth devices for PS4 just to maintain the overall gaming experience.
But you don't need to worry, there is a solution to every problem. Here, in this article, I have mentioned four easy ways to connect bluetooth headset to PS4. Just you need to choose any of the methods mentioned in this article which you find more easier.
Four Easy Ways To Connect Bluetooth Devices With PS4:
Connect PS4 With Compatible Bluetooth Device:
First, you need to check whether the Bluetooth device which you want to connect to the PS4 is compatible/supported by the PS4 or not. If you are not clear then you can give this method a try. Now you need to follow some easy steps mentioned below:
First Open Settings > Bluetooth > Devices, The search for nearby available devices will automatically start.
A list of paired devices & available device will appear.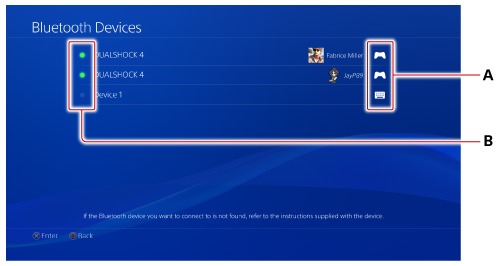 Just you need to select the device which you wanna connect to.
If it connects successfully then great. But if it doesn't then your device may not be compatible with the PS4. You still have three more ways to give a try.
Remember
The type of Bluetooth device is indicated with the following icons:
| | |
| --- | --- |
| | DUALSHOCK™4 wireless controller or other controllers |
| | Headset |
| | Speakers |
| | Keyboard |
| | Mouse |
| | Printer |
| | Computer |
| | Mobile phone, smartphone |
| | Remote Control |
| | Other devices |
The connection status is indicated by:
| | |
| --- | --- |
| On (Lit) | Connected |
| Off | Not connected |
You may need to unregister any of the unnecessary paired devices if the limit of maximum no of devices which can be paired is exceeded. The no of Bluetooth devices you can connect at the same time varies with the device type. For more details, you can read this guide – PlayStation User's Guide.
Connect The Bluetooth Device To The PS4 With A USB Adapter:
To do so, you just need to follow some easy steps which are the following:
First, you need to insert the USB Adapter to the provided USB slot.
The second step is to turn on the Bluetooth headset.
Now Open Settings > Devices > Audio Devices and then click on the Output devices option & select USB headset.
Now try to adjust the volume in the Volume Control option, then you need to click on Output to headphones option & select all audio. Again try to play games if your headset works.
Connect The Bluetooth Device To The PS4 Using Dongle:
This method is also very easy. You just need a wireless microphone & a dongle to follow the easy steps:
First, Insert the Wireless Mic into the PS4 controller & the Bluetooth dongle into the PS4 USB slot.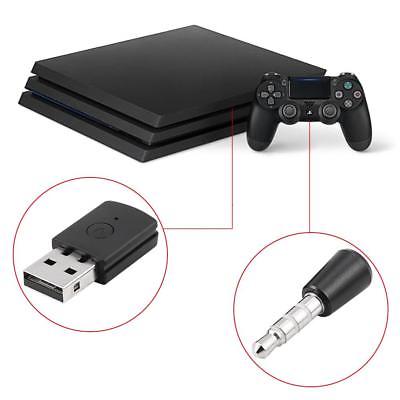 Secondly, you have to press the button provided on the Dongle to turn it on.
After turning on the Bluetooth headset & getting connected, Open Settings > Devices > Audio Devices.
Now select Headset connected to the controller in the Input Device option. And then select the USB headset in Output Devices button.
Now again you need to adjust the volume and then you have to select All Audio in Output to headphones option. Now once again try to play the games if your Bluetooth device works.
You still have left with one more option which might work for you. Just give it a try.
Connect The PS4 With Bluetooth Headset Wired:
You need an audio cable with a built-in microphone in this method. If you got one, then follow the below mentioned steps:
Firstly, Connect your PS4 controller & Bluetooth headset with the audio cable. Then you need to turn on the headset.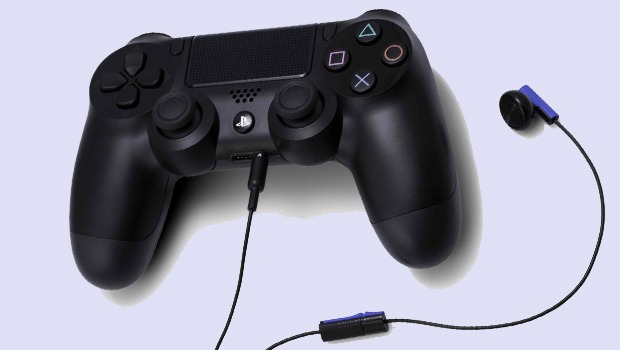 Now open Settings > Devices > Bluetooth Devices & select the headset which you want to connect.
Now go to Devices > Audio Devices and click on the Output Devices option, and select Headset Connected to Controller.
Then adjust the volume in the Volume control. And select All Audio in the Output To Headphones.
Once again try to play the games if your Bluetooth headset works.
Source: Driver Easy
If you find this article helpful, then don't forget to rate this article. I hope now you would be able to connect Bluetooth Headphones To PS4. And if you are still facing any problem or are having an issue, feel free to comment below. I am there to help you out.
Also Read:
How useful was this post?
Click on a star to rate it!
Average rating / 5. Vote count:
Summary
Article Name
How To Connect Bluetooth Headphones To PS4
Description
In this article, Many easy ways are mentioned which will help you to Connect the Bluetooth Headset to your PS4.
Author