Twitch is a live streaming video platform which primarily focuses on video game streaming. It is one of the greatest places for watching some of the world's best players streams live. There are a lot of streamers which try to give their best, some even work on it on a full-time basis. If you want your favorite streamers to continue to stream for you more often. Then you can support them by just donating a small amount. But now the big question is, How To Donate On Twitch?
Donating on Twitch is quite easy. Many streamers set up a donation button on their Twitch panel. Don't worry, if you don't have money, You can still donate, Yes you have read correctly. If you are out of cash still you can support a twitch streamer. But for that, you need to read the whole blog post. In this article, I will be telling you three easy ways by which you can donate on Twitch.
How To Donate On Twitch?
Here are the three simpler ways of donating on Twitch:
Bits Donations
Paid Donations
Cost-Free Donations
Support A Streamer Using Bits:
Before starting, first, you should know what are Twitch Bits? These are basically the Twitch's currency available to affiliate marketers & partnered streamers or even used for making donations. But first, you need to make it sure that your favorite streamer whom you want to support accept bits or not.

If you find any of these symbols on the chat box or on the stream, then it is confirmed that the streamer accepts bits.
Let's start with the process.
Some Easy Steps:
First, you need to navigate to the Twitch website.
Now you need to click on the login button available on the right of the dashboard.

If you don't have any bits, get started by buying some. 100 bits will cost you around 1.40$, out of which the creator will receive only 1$. First, You need to locate the Twitch Streamer whom you would like to support.
Now you have to click on the chat button, a pop-up will appear like this.
You can easily get some bits using this Get Bits button as shown in the image. You could also have purchased some bits from Twitch's Homepage.
Now you can easily donate, just type "cheer" with the number of bits you want to donate like I want to donate 900 bits, then I will type "cheer900" in the chat box. That's it!
Paid Donations:
Paid Donations the easiest & direct method of supporting a Twitch Streamer. You will easily find links to Paypal on the streamers dashboards. You may also find links to Streamelements  & Streamlabs, which uses both credit cards & PayPal. Both of the services use nearly identical steps, but the Streamlabs allows more customization & additional functionality.
Some Easy Steps:
After signing in, first, you need to locate to the streamer's Twitch panel where you will find the creator's donation link. Maybe there would be a custom image saying "Tip" or "Donate" as shown below or just there would be a PayPal link.
If you will donate using Streamelements or Streamlabs, you will see a window, where you need to add your name, donation amount, a message & even a GIF as shown in the image below.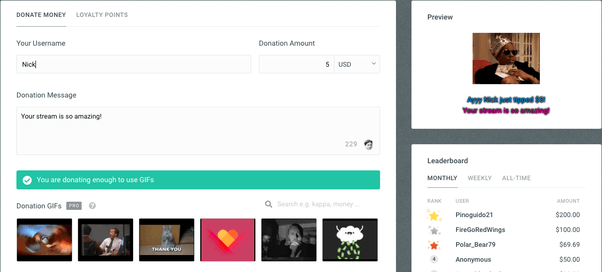 After completing with all this, Now it's the turn to make the payment, just click on that Donate button which you will find at the bottom of the page. You can pay using PayPal, Bitcoin, credit card or through a variety of other methods. It's quite simple.
Cost-Free Donations:
In the beginning, I have told you about the way through which you can donate even without having money. The method is quite simple but is a bit time taking. You can go with it if you don't have a credit card or if you are out of cash. With this method, you will also find the same features.
There are some tools like Solidarity app which allows you to donate to a streamer by just trying a game or app. Mostly streamers publish their links in their panel or even in the chat box as shown in the image below.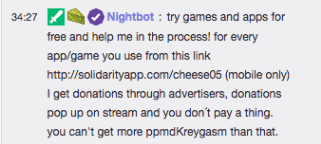 Let's start with the process
Some Easy Steps:
What you have to do is, first, you need to open the creator's link on your smartphone.
Now it's the turn to choose the app, just swipe right/left for more applications. The coin tells you the amount which you can donate trying the app. Refer to the image below.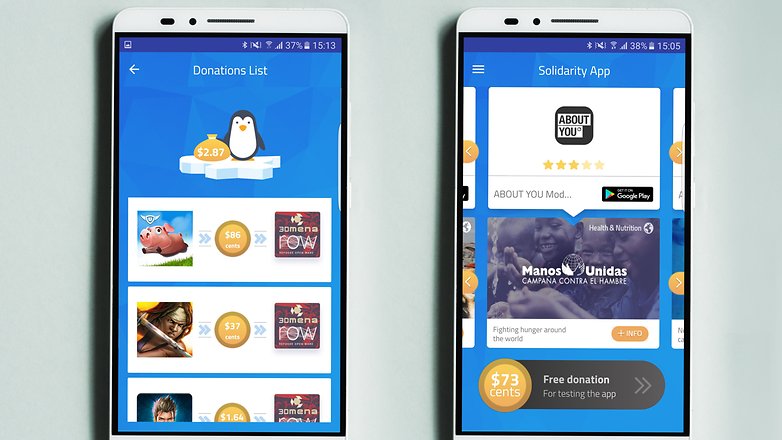 Now download the app through the Google Play store/Apple store depending upon the device you are using.
Now open the app and use it for a few minutes, after some time, you will see that your donation appears on the streamer's panel.
The best thing about this app is that there is no limit on trying apps for donations. Like many apps or games, you will try, as much you will be able to contribute, that's the simple calculation. Just do one thing, try to find some pretty games which you find best & start playing them. By this, you can have both fun & can also donate some amount to your favorite streamer.
Donating is quite easy. As a viewer, If you want to interact with your favorite streamer, a donation is the best way to do so. You can try any of the above-mentioned ways which you find more suitable. Each method has its own unique look & experience. Go ahead, select any of the methods and contribute whatever amount you can. Your small contribution can keep help a streamer.
Source: Quora, Computer Hope
I hope this article would have been helpful. Now you can easily contribute & keep this streaming & creative world alive. Feel free to comment below if you have any queries or are facing any problem. I will try my best to help you out. Further, If you have any suggestions or opinions for our blog, Write to us through the Contact-Us page.
Also Read:
How useful was this post?
Click on a star to rate it!
Average rating / 5. Vote count:
Summary
Article Name
How To Donate On Twitch? | Twitch Donations
Description
If you want to contribute some amount to your favorite Twitch streamer, then this article is must read.
Author