You'll find many sites in which some misinformation is provided. I am not blaming them, but there is some misconception with people. Look, It is not that much easy to recover deleted emails in Gmail if you have permanently deleted them. If you are unable to find certain emails, then there are some easy ways which can help you out. You can get to know about them from here – Find Missing Emails.
What people do sometimes is, by mistake, they delete some important emails. In an effort to free up space, they select emails to be deleted in bulk. And sometimes mistakenly they select some messages, which should not have been removed. Just imagine, one day, your wife told you to save an email containing free discount coupon codes but on the last day of the offer the email got missing or mistakenly you just deleted it, and your wife wants to utilize the free coupon codes. What will happen?…
If you delete a message without choosing Delete Forever, it moves to the trash folder. Don't worry, it can be recovered in no time. I will be telling you an easy way by which your deleted messages can be recovered.
Recover Deleted Emails In Gmail: Trash Folder
Gmail has a great feature which helps you to discover old emails, this search function even works with the trash folder. All you have to do is, firstly, you need to move to the trash folder. Then you have to click on the search function. You can refer to the image below.

Now you have to search for the keywords which you think, your email might have contained. Now, you will be presented with some messages containing the same terms which you typed into the search box. Once you have found the message, all you have to do is to transfer that mail to the inbox folder or any specific folder, it totally depends upon you.

First, you need to open up the message, then you have click on the Move to button as shown in the above image. Now select any of the folder, in which you want your message to be transferred. That's it!
Note: The deleted messages stay in trash folder only for 30 days after deletion. After 30 days, the messages will get permanently deleted.
Unable To Find Trash Folder?
If you are unable to find trash folder, just you need to follow some easy steps which are mentioned below:
Firstly, Open Gmail.
Then click on the Settings icon, There will be many options available to you. You just need to click on the Settings button.
After clicking on the Settings button, you will be directed to the General Settings, now you need to switch to the Labels.
When you will scroll down, you will find a Trash option which might be set to hide, you just need to select the show option as shown in the image.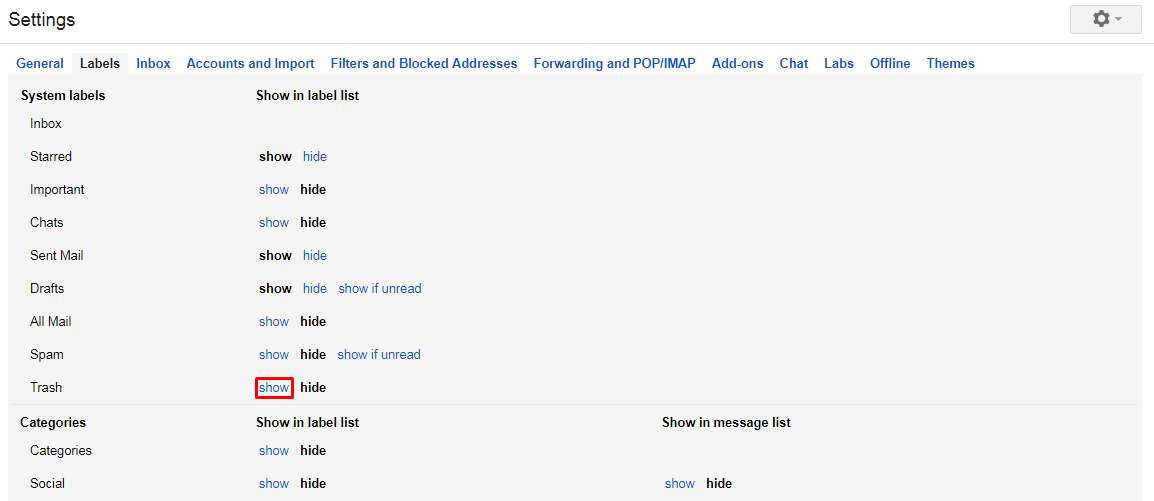 Recover Permanently Deleted Emails In Gmail:
While deleting messages, if you select the Delete Forever option, then it can be a big problem, if the selected message was an important one.

According to Google, If you deleted a message by selecting Delete Forever, then you won't be able to recover it back. But If your message was permanently deleted because someone got into your Gmail account without your consent, then you can ask them for help by just filing a report here – My messages have gone missing.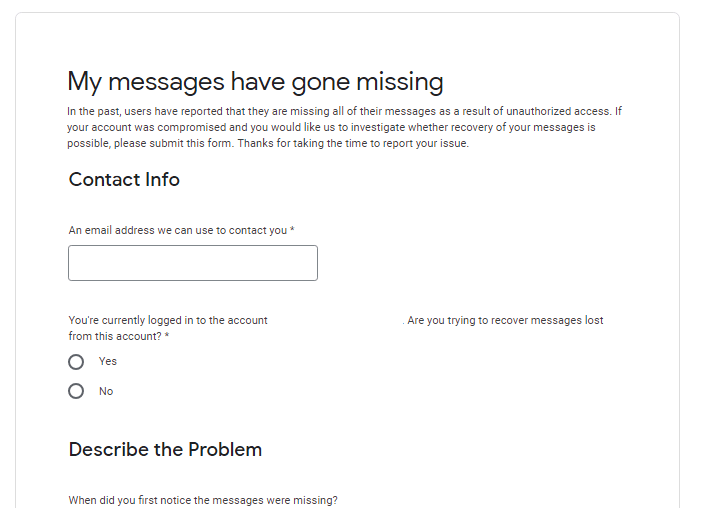 It's not that simple as it looks, they just say – "You can ask". But they don't promise for a solution surely. If you delete any message permanently, then that message gets deleted at the server level. If you deleted it yourself, Google will not even try to get it recovered for you. The company gets thousands of emails daily and really they don't have time to reply to each mail they receive. Still, you can try by filling up this form as there is no loss in it. I hope they will help you out with this.
You can leave your comments below if this article is helpful to you. If there is any query, you can also ask it by writing it in comments. I will try my best to help you out as fast as possible.
Also Read:
How useful was this post?
Click on a star to rate it!
Average rating / 5. Vote count:
Summary
Article Name
How To Recover Deleted Emails In Gmail [Problem Solved]
Description
If you want to know How To Recover Deleted Emails in Gmail, then this article is for you.
Author